Noticing that the section of my closet reserved for stupid was running dry, I took another trip to my favorite online tailor,
Right Wing Stuff
. This online W-Mart typically tops itself every year (so to speak), and this go-round is no exception. Here now is the official
Not Right
fashion report for Fall 2006!
And you know how the GOP loves its undocumented workers!
Um, didn't we already?

And Trix is what's for dinner
Unlike Christianity, which is cross!
As do anti-abortion activists with guns!
So America started it, then? I'm confused...
Yes! Let's save the country from...oh wait, that can't be right...
Remember that the next time you hear the phrase, "Compassionate Conservatism"
Expires in 2008, soon to be revoked in 2006...
Smoking, vengeance, racial slurs and misspellings...the perfect neocon tee!
And now we know
whose
desk we stored it under!
Diamonds not bloody enough for you?
This shirt dewrinkles itself with irony
Because your boss outsourced his call center to India!
Protect that Idaho border!
Semper Fi! Void where prohibited...
They kiss my ass and will never let go
He'll get you wasted quick!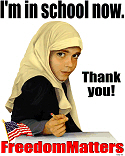 "And I got written up for violating the dress code!"
On the back, it says "Draft me"
This is a misprint...it's supposed to say, "I wiretap bleeding hearts"
We have no decency!
On the way home I stopped to pee at
Right Wing Clothing
, a fledgling boutique of a similar stripe. I'd post the images from RWC, but I'm all out of Alka-Seltzer (plus, the images are gigantic). Their moronic statements are in bold, and my brilliantly witty comebacks are, well, not.
--
Freedom isn't Free
...so go pay my tab, hippie!
--
Proud member of the Reagan Generation! Born 1980-89
...Not only is that chronologically incorrect, but it says more about your parents than about you. I'm a Carter baby, but that doesn't mean I was able to vote for him!
--
Clinton-Guevara 2008
...which even a Republican would have to take against Bush-Hitler!
--
Minute Men concentrated border protection
...sold in fine stores with Dole brand welfare!
--
John Kerry...more positions than Paris Hilton
...who by the way is the perfect Republican: a rich, vapid heiress with few concerns beyond connections and her own amusement.
--
The 2nd Amendment: The Original Homeland Security
...which apparently couldn't stop terrorism, so we had to establish a real Homeland Security!
Happy shirting!