A few nifty anecdotes for Memorial Day
For Veteran's Day last year, I wrote
a tribute
to various members of my family who served in the military, both in wartime and in peacetime. This post expands on a few of their stories.
If you've stalked my Blogger profile (and, really, who hasn't?), then you might recognize at least half of the above picture. This was taken on Easter weekend 2005, when my cousins and their parents visited us from Arkansas. The guy towering over me is my first cousin Damon McGibboney, who had recently returned from a tour in Iraq. Since 2001, he had lived and trained in Germany with the 4-3 ADA, where he served as a Sergeant. You can see him on
page eight of this newsletter
working a security checkpoint in Tikrit.
Being that Damon was the first of many soldier friends and family that I have seen return from Iraq, I wasn't sure what to expect. He defused any trepidation right away by saying, "Hey man, I found your website. Good stuff!" We all had a good time partying for a few days at my place.
Concerning Iraq, two things he said really stuck with me: 1) "It's not bad there. The worst thing is that everybody smells like underarm" and 2) "We're not big Bush fans." He told us he was being honorably discharged in May. I hope it came to pass. May they all come home ASAP.
Another veteran who taught me much of what I know about World War II is my maternal grandfather, Henry Roberthon. I called him "Pop," and he lived next door. He gave up a four-year agriculture scholarship to voluntarily serve in the Navy Seabees in the Pacific theater. He walked the streets and highways of Nagasaki just days after the bombing, and witnessed firsthand the horror of a post-nuclear ghost town. He told me he saw people mutilated while the highways had not been affected at all. He also toured San Francisco, the Aleutian Islands and Hawaii.
His favorite war story was about a guy in his unit who could piss over a Quonset hut.
Henry Frank Roberthon Jr. (1921-1999)
He was discharged on New Year's Eve, 1945. He came home, met my grandmother in a bar, and they were married on March 3, 1946. They never looked back. He was a movie projectionist and later, a TV and radio repairman. His shop was built into his house and it was my playground. For decades, if someone needed a TV fixed in Lafayette, he was the man. I once saw him fix a TV I had broken five years before. At his kitchen table. In about five minutes. With a screwdriver. Eleven years after he had retired. Be all you can be? He was.
One of my most prized possessions is his Navy pullover, which he gave to me when I was 12. I actually wore it a couple of times, but knew that I'd never fit into it quite like he did. He also had a whole bevy of rifles from the period, and had a story for every one. One year, my younger cousin borrowed them for a social-studies-fair project on WWII and got first place. I always wondered how an elementary-school kid managed to bring rifles to a Catholic school and not only not get arrested, but get awarded in the process. Then again, the early 1990s were an innocent time.
Left: On the day of my high school graduation, 1998; Right: cutting a rug in March 1995
In 1998, he was going through his closet when he found a loose reel of undeveloped film. He remembered it to be from his Navy days, back when film came off a roll like toilet paper. He had taken a whole bunch of pictures but never got around to having them developed. On a hunch, he took it to Wal-Mart along with his most recent film. He explained his find and asked them if they could try to develop it. Sure enough, the film yielded numerous pictures--some off-center and all of them grainy, but compelling pictures nonetheless. The technicians were so awed by the results that they let him have them at no cost. I won't post them here, because I feel that they deserve a separate entry.
Pop succumbed to pancreatic cancer on February 7, 1999, having beat back a litany of injuries and maladies over the years. I miss him a lot. One of his buddies had a bumper sticker that said, "Love your freedom? Thank a vet." I never had to be reminded.
His wife of 53 years, my grandmother, had three brothers also serve in WWII. All three served in different capacities (at least one who was a fighter pilot, right) and all came home to live long and productive lives.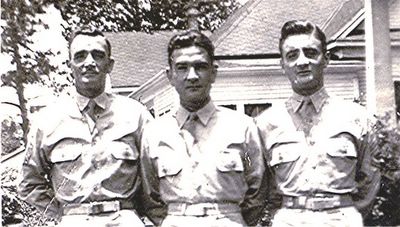 Left to right: Lennie "Big Ham" Hamilton (1908-1994); Billy Hamilton (1915-1980); John Harrell "Little Ham" Hamilton (1922-2002). Behind them is my childhood home, where I lived for my first 19 years. You can see the windows of my bedroom. I wasn't there at the time, though.
I'm sure that all of you know at least a few veterans and current soldiers. Wartime politics are always messy--now more than ever. Thus we must never forget about those doing the dirty work, because they are friends, family and (above all) human beings. Happy Memorial Day.