The newspaper that see before you has declared its endorsement of John Kerry in 2004. I know, I know, liberal media, right? What paper is this? The Liberal-Commie Tribune? Hippie Weekly? Flip-Flop Illustrated? The Pinko Pulp? The Un-American Non-Patriot?
Guess Bush won't bother stumping THERE!

Let's flip it over and find out!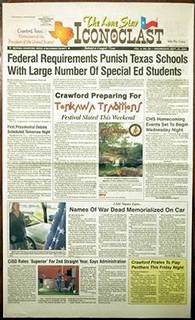 Damn liberal media...Texans!

That's right:
The Lone Star Iconoclast
, a weekly newspaper based in
Crawford, Texas
, has reversed its 2000 Bush endorsement to
support John Kerry
in 2004!
True, the Iconoclast has only been around for four years. And its circulation is only 425 (out of a big population of
751
). Still, though, it's Crawford we're talking about here. Texas has something of a reputation for Bush worship (a well-deserved one at that, if my personal experience in the state is any indicator), so to see
Crawford's only newspaper
challenge its most famous resident is comforting. Kerry support keeps coming out of the most unlikely places.
Cheyenne, we're still waiting...